Regular price
$69.99
Sale price
$27.99
Unit price
per
Sale
Sold out
The next generation of drum mixing plugins. 
Get your free 7-day trial here.
SUBLOOM is a new drum mixing console that gives you everything you need to shape your drums to perfection.

With its comprehensive set of tools, intuitive interface, and helpful presets, SUBLOOM is the perfect tool for producers and engineers of all levels.
Features:
"Pitch Dive" section that allows users to emulate the natural resonance of live drums.

Adjustable Speed, range, and decay for crafting the perfect low end bloom

Comprehensive EQ 

HPF & LPF with resonant control for fine-tuning low end "notes"

Aggressive British style 3-band EQ 

Low (30hz, 60hz, 120hz)

Mid (400hz, 800hz, 1200hz)

High (3khz, 6khz, 12khz)

Pre/Post EQ Option for placing EQ first or last in the circuit (before or after transient design and saturation)

Meticulously-tweaked Transient Designer

Pre/Post switch to place before or after saturation

Gorgeous Saturation Circuit

3 Modes that range from subtle warmth to tube obliteration

"Warp" feature that modifies the entanglement between the eq and saturation circuits

Easy to use (even for beginners!)

Clear and intuitive interface and a variety of presets to get you started.
View full details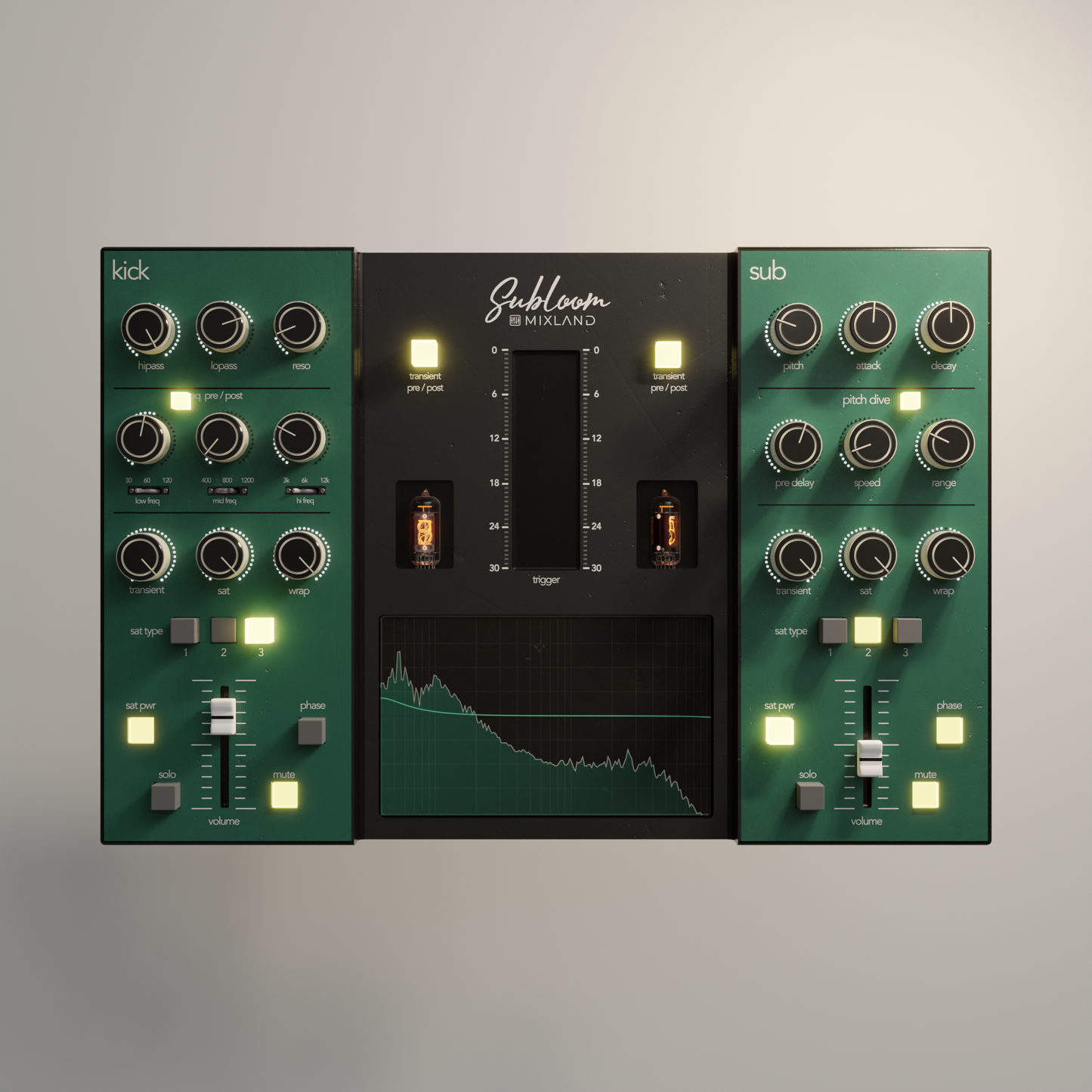 Boom !
I like this to beef up my kick especially tracks that don't have a sub already in the Mix . I use it in a standard way bc i don't do much electronic music although this would shine for that approach because you can add a lot of overtones and dives to the sub side . I'm sure this will be interesting to experiment with bass guitar and bass synths as well, and who knows with what else , there are no rules except to sound good .
doesnt work on os 10.10
Bought it because it says it works from os 10.7 and up and I'm running 10.10. The plugin makes the entire session GUI slow to 1 fps. Clicking anything or any keyboard button takes 2 seconds to register. Good idea for a plug but unable to use it. Using my mix rig on os 10.10 and PT HD 12.7.
SUBLOOM
A good tool for some mixing tasks. Thank you
Subloom is a Dream Come True.
I am fortunate to have found Subloom. Previously, I had other plug-in for kicks and low-end. However, none of those plug-ins perform on the level of Subloom. Subloom is now my primary tool for kick, sub, and low-end mixing. Subloom is a dream come true.
Must have
This has immediately gone into my mix template's Kick buss. It's quick, easy, and improves the sound every time.